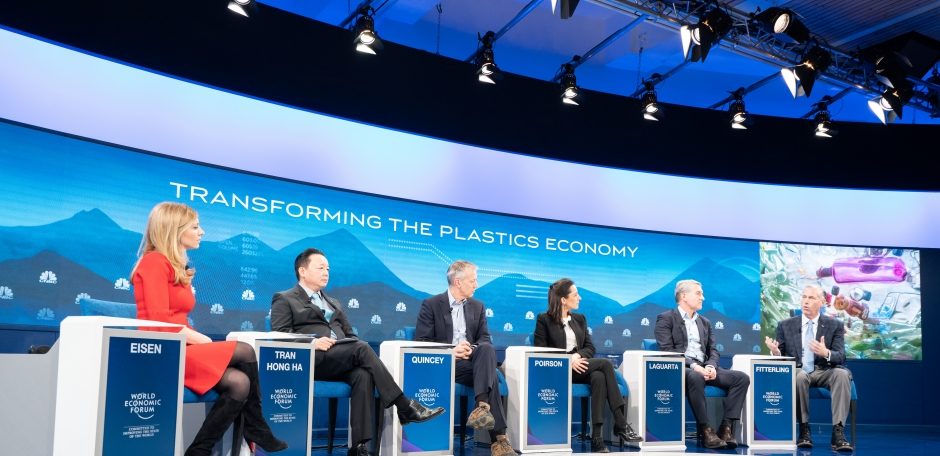 Collection & Recycling Key to Driving Circular Plastics Economy
Coca-Cola CEO at Davos: Collection and Recycling Key to Driving Circular Plastics Economy By: Jay Moye | Jan 25, 2019
DAVOS, SWITZERLAND – Curbing plastic waste and creating a circular plastic economy requires companies, governments and NGOs to make recycling easier and more attractive to people around the world, Coca-Cola CEO James Quincey said this week during a World Economic Forum (WEF) panel discussion moderated by CNBC's Sara Eisen.
"We need to make it a better value proposition for the consumer," Quincey said. "We need to make it more convenient and more valuable for them to return the (PET) bottles – so they have value, and so we can buy them back and then reuse them. Then the flywheel – the circular economy – turns very quickly."
He added, "We've done an amazing job, collectively, of delivering convenience to consumers. We've delivered fantastic-tasting products that are easy to buy, easy to consume. But we have not yet made them easy to recover and reuse. Only with that bit of convenience can we truly have a circular economy that will give value to each bottle."
Quincey, who was joined on the panel by PepsiCo CEO Ramon Laguarta, Dow Chemical CEO Jim Fitterling and senior government officials and environment ministers, Brune Poirson of France and Tran Hong Ha of Vietnam, stressed the need for continued cross-sector collaboration throughout the plastics value chain. "I think there's an urgency to put in place systems that work," he said. "The sense of urgency is driving everyone forward."
Last year, Coca-Cola announced it would expand access to the IP for its PlantBottleTM – the world's first, fully-recyclable PET plastic bottle made partially from plant waste – more broadly, including to beverage industry competitors.
"What we want is to see this collective action on design of sustainable packaging and recovery of sustainable packaging," Quincey explained. "Because that's what will make all industries more sustainable." In France, Coca-Cola operates Europe's largest food-grade PET recycling facility. "It's not operating at capacity," Quincey noted. "Why? Because we don't get enough clean feedstock. We need to get the bottles back. The gap at the high value end of plastics – PET – is collection."
And it's not just about recyclability, Quincey insisted. "We also have to worry about the carbon footprint of all these options," he added, noting that PET bottles have a lower carbon footprint than the equivalent amount of aluminum or glass.
While Coke continues to push the innovation envelope in everything from packaging design to chemical recycling, Quincey stressed that existing solutions are working. The challenge is getting more people in more places to recycle more plastic packages more often.
"We've seen countries like Mexico and South Africa go from 10 percent (plastic bottle recycling rates) to 70 percent in a decade," he added, noting that the global average is around 60 percent. "We've proven it in countries… now we just need to take it to a global scale."
He concluded. "We have a lot of momentum. We are moving to the stage of not just individual action and individual country successes, we're moving to success at scale. At the end of the day, this is not a model that needs to be reinvented – though innovation can make it much better – because there are countries where, collectively, we've solved the problem."
https://www.coca-colacompany.com/stories/coca-cola-ceo-at-davos-collection-and-recycling-key-to-driving-circular-plastics-economy
https://www.secontainer.com/wp-content/uploads/2023/03/Davos2019a.rendition.940.456.jpg
456
940
integritive
https://www.secontainer.com/wp-content/uploads/2023/02/SE-Container-logo-full-2x.jpg
integritive
2019-07-11 11:26:35
2023-03-16 11:30:56
Collection & Recycling Key to Driving Circular Plastics Economy